Neon Sign Repair is Vital for Business Growth
Having the right signage can either draw or take away business from you. A well maintained,lit, designed neon or LED sign draws customers to your business. A poorly lit, placed, and forgotten sign will draw business away. Studies have shown when a business neon sign is carefully designed and maintained, the need for other forms of advertising is greatly reduced, according to the Small Business Association. That's why so many companies are choosing a lighting maintenance company to take care of all of their neon sign repair and maintenance needs.
Boosts Sales
Your neon sign is equivalent to hiring a street promoter without having to pay them. Your sign informs passerby's of your product or service and more than any other form of advertising, a business sign has the best return on investment according to a study that was conducted by the University of San Diego School of Business Administration. During this study they found a business and repaired their sign. They made sure the sign was visible from the street, that it was new, and well lit. During a one week period 10 customers visited the business stating they found it from the sign. In turn, 6 out of those ten customers made a purchase.
Design and Message
If your company's neon sign can be seen, it will drive traffic to your business and will result in a boost in your bottom line. Your sign must be bold and well lit so it can be seen from a distance. You can easily turn off a potential customer by having a sign that has too much detail as this will confuse them. Signs must be memorable and consistent with your brand. Make sure that your logo and color scheme are consistent with your neon or led sign. Your sign must also be well-lit and visible after dark. Your sign is your best advertisement morning, noon and night, so make sure that you have someone that can consistently maintain it.
Regulations and Permits
As with most things business related, there are many regulations and permits that are required with any lighted signage for your business. There are new California state laws that passed that are geared towards reducing energy waste. One of them contains a requirement that electrical energy use in neon, LED and florecent signs must be significantly reduced by 25% to 50%. This new law will slowly put an end to neon lighting and will put a start to LED signage.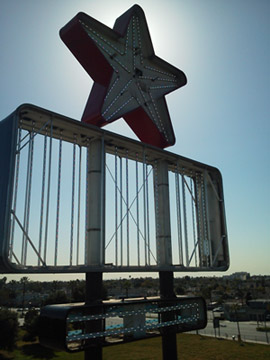 Sign repair is one of the hallmarks of Day-Lite, and as shown above, it's an added potential for increased profit for your tenants and centers.
From lighted fluorescent pylon signs to channel letter neon signs, Day-Lite will ensures your sign is bright and visible.
We offer various service options to assist you with your outdoor signage needs including energy efficient options for neon and most fluorescent applications.