LED Retrofit & Energy Efficient Upgrades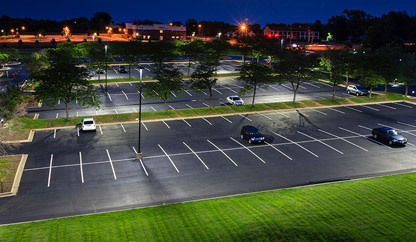 LED's or light-emitting diodes are a form of solid-state lighting that is extremely efficient and long-lasting.
LED is the latest and most exciting technological advancement in the lighting industry. DayLite was instrumental in the paradigm shift from incandescent to compact fluorescent a few years back, saving our clients thousands of dollars in energy costs. With the advanced technology of LEDs and controls, DayLite is poised and ready to lead the way in servicing and transforming your properties to be more energy efficient.
LED-What makes it so special?
SAVINGS
LEDs are extremely energy efficient and consume up to 90% less power than currently used lamps. Since LEDs use considerably less power, the savings can be tremendous. The return on the investment (ROI) in terms of cost of the bulbs will be immediately recouped in lower energy costs!
LONGEVITY
LEDs has a much longer life span. LEDs last ten (10) times longer than a compact fluorescent bulb and one- hundred thirty-three (133) times longer than your typical incandescent bulb. Such longevity lowers maintenance and operating costs.
DURABILITY
LEDs are more durable and are able to withstand shock, vibration and extreme temperatures.
CONTROL
LEDs give you the freedom to control the type of light sought after for your property, along with the ability to control each fixtures light output with dimmers and occupancy sensors.
ENVIRONMENTAL
LEDs are manufactured using non-toxic materials. They use less power and they are recyclable, which is environmentally sound.
Let DayLite evaluate your property to incorporate the latest energy efficient lighting system.
There are a variety of long life LED solutions along with other options and additional controls such as dimming and light level reading controls allowing to keep proper light levels at all times and eliminating unneeded use of your general, accent and outdoor lighting creating significant energy savings.
DayLite can retrofit your lights to the latest energy efficient technology. Retrofitting is quick and easy and there is no disturbance to the existing structure or fixture body.
DayLite can replace your existing outdoor light fixtures with the latest luminaries and controls to increase your cost savings.
Additional costs saving incentives or rebates available for installing energy efficient technology
Energy providers like Southern California Edison, San Diego Gas & Electric offer incentives and energy-saving solutions to help your business save money & energy. Visit the following links or ask your Day-Lite Customer Service Representative for assistance in obtaining the rebate information.
Maintenance costs would be greatly decreased or almost eliminated with proper lighting systems.
Some cost savings could be more surprising then you think, in additional profits from added worker productivity and overall improvement of moral.
PROUD MEMBERS of these organizations